To discover more about this print, check out my blog article by clicking here

Relief lino print
Limited edition of 26
Dimensions (image area): 40cm (wide) x 69cm (high)
Borders: min 3.5cm
Paper: High quality art paper: 225gsm Zerkall 902 Smooth
To find out in detail how this print was made, check out my blog article by
clicking here
This print has been jury-selected for exhibition at the:Wells Art ContemporaryWoolwich Contemporary Print Fair

Wistman's Wood has become a bit of an obsession for me, to the extent that I almost have to ration my use of it as a source of images!
From the outside, the wood could be described as nondescript - it's located along one side of a river valley on otherwise open moorland close to the centre of Dartmoor - a collection of undergrown oaks that seem to be trying not to draw attention to themselves.
But inside, the wood tells a very different tale, especially on a misty spring morning, or when the summer sun is filtering through the canopy and throwing shadows across the moss-covered boulders through which the dwarf-oaks push themselves towards the light.
The trees, some as old as 400 years, are habitats in their own right - with lichens and ferns growing on their trunks and branches.
The wood has many legends attached to it - stories of the Wild Hunt and the Wisht Hounds in particular. But if the place feels haunted, which to me it does, it is in a benign way - although it probably makes sense to pay attention to the old stories that caution against an overnight stay.
The oak I've chosen for this print will not be the last that makes its was into my work, of that I'm sure! For me, it captures most of the elements that make the wood the magical place it is - the boulder, the ferns, the ancient bark and contorted limbs. I've focused on the character of this particular tree by removing much of the dense imagery that makes up the actual scene - even to the extent of making a single layer of the ferns that are growing around the base of the tree. This is an image of age and endurance, of almost timeless existence. If, indeed, this is one of the older oaks in the wood, then it may have been a sapling when the Mayflower set sail from nearby Plymouth at the start of her historic voyage to Virginia, in the Americas. Which is quite a thought.
This large print has taken me about 90 hours to cut. It was made from four separate blocks. The total printing time was about 25 hours. The greens of the canopy were produced using the reduction method - so that block was destroyed during the process. The tree and the ferns were cut into a single block, which had to be inked with both green and black at the same time - this took about 15 minutes per print - not long if you say it quickly, but it added up to about 8 hours of non-stop printing for that layer alone!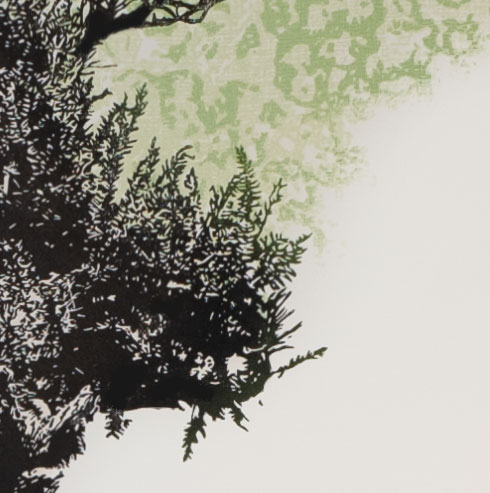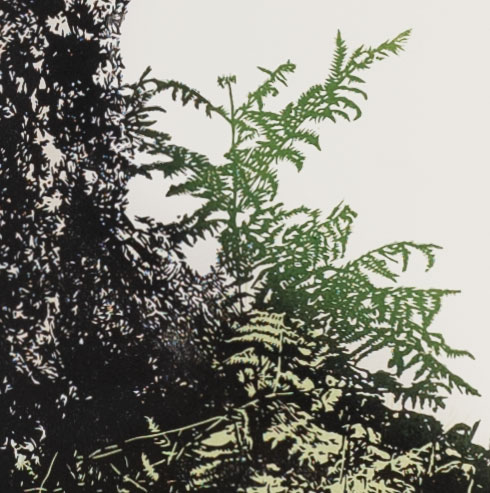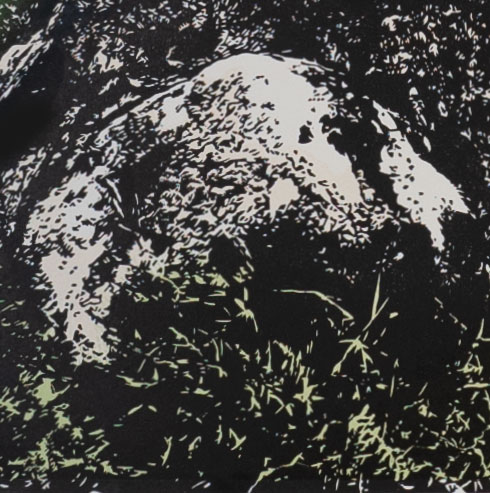 Sold as an unframed print
FREE POSTAGE TO ANY ADDRESS - WORLDWIDE!
Number currently available: 15