Relief lino print
Limited edition of 12
Dimensions (image area): 60cm (wide) x 39cm (high)
Borders: 4cm
Paper: High quality art paper: 225gsm Zerkall 902 Rough

There are field systems in Penwith, in the far west of Cornwall, that pre-date the Pyramids and Stonehenge - carbon dating has placed them in the late Neolithic/early Bronze Age (so we're talking 3000-5000 years ago). What is particularly remarkable is that these ancient 'artifacts' have been in regular use up to the present day - a rare, and almost

unparalleled

, achievement, in archeological terms.

My viewpoint for the making of this print, looking towards the sea over what are most likely Iron Age field walls (about 2500 years old), was a short distance from the Lower Boscaswell fogou (also a survivor from the Iron Age).

The print was produced in three stages - the foreground detail, in black, was printed first - then the darker section of the sky, followed by the lighter section of the sky. The detailed pattern in the sky (see image below) was made by placing muslin over the inked block, so that the fabric imprinted its pattern onto the paper - I like that it looks a little like a fine fishing net.

The image was produced from a series of photographs that I took in 2020. I've removed some modern 'artifacts' - water troughs, galvenise-roofed sheds - I've even taken the liberty of removing the sea from the view! It took me about two days to construct the image before I could begin cutting it into the lino, which itself took about a week.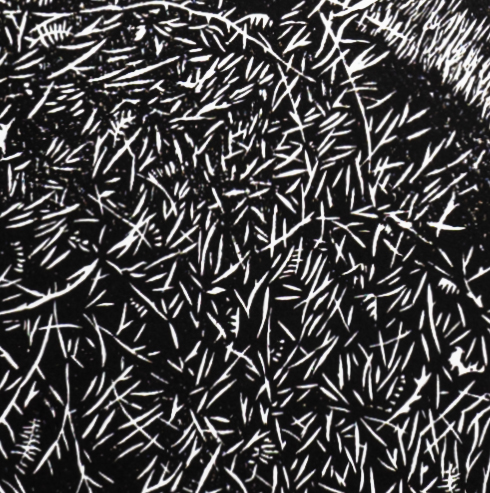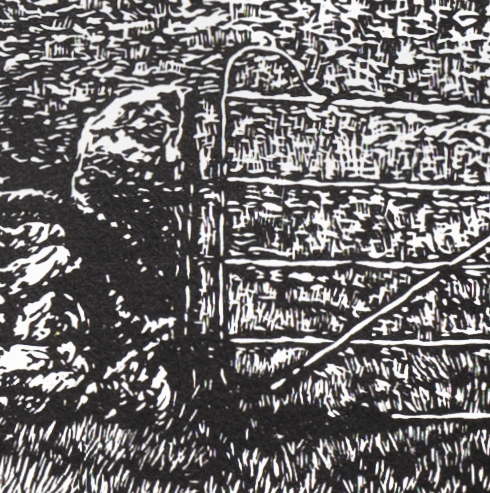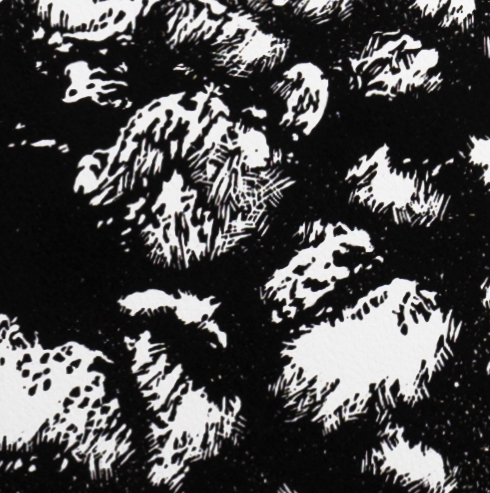 Number currently available: 11